Newest Dodge Ram 1500 model 2012 in showroom
Company Chrysler revealed its new Ram 1500 pickup, which according to its creators have technologies that are now unfamiliar with the machines of this class sold in the U.S. market. Developments in the Ram 1500 is mostly related with the problem of fuel economy. The model has received 8-speed automatic transmission, both six-cylinder and 8 cylinder engines. Furthermore, a system "start / stop", improved aerodynamics, power steering and adjustable suspension. It is the same, which is fitted and the new Jeep Grand Cherokee. Thanks to its ground clearance can be reduced by 3 cm, thus more effectively through the headwind.
New Dodge Ram 1500 on the road
As the base engine offers 3.6-liter Pentastar V6 with 305 hp power and 364 Nm. For comparison, the atmospheric engine of Ford F-150 with volume 3.7 liters 302 hp has and 377 Nm. From Chrysler argue that their new unit will improve ICOM fuel by about 20% compared with the old.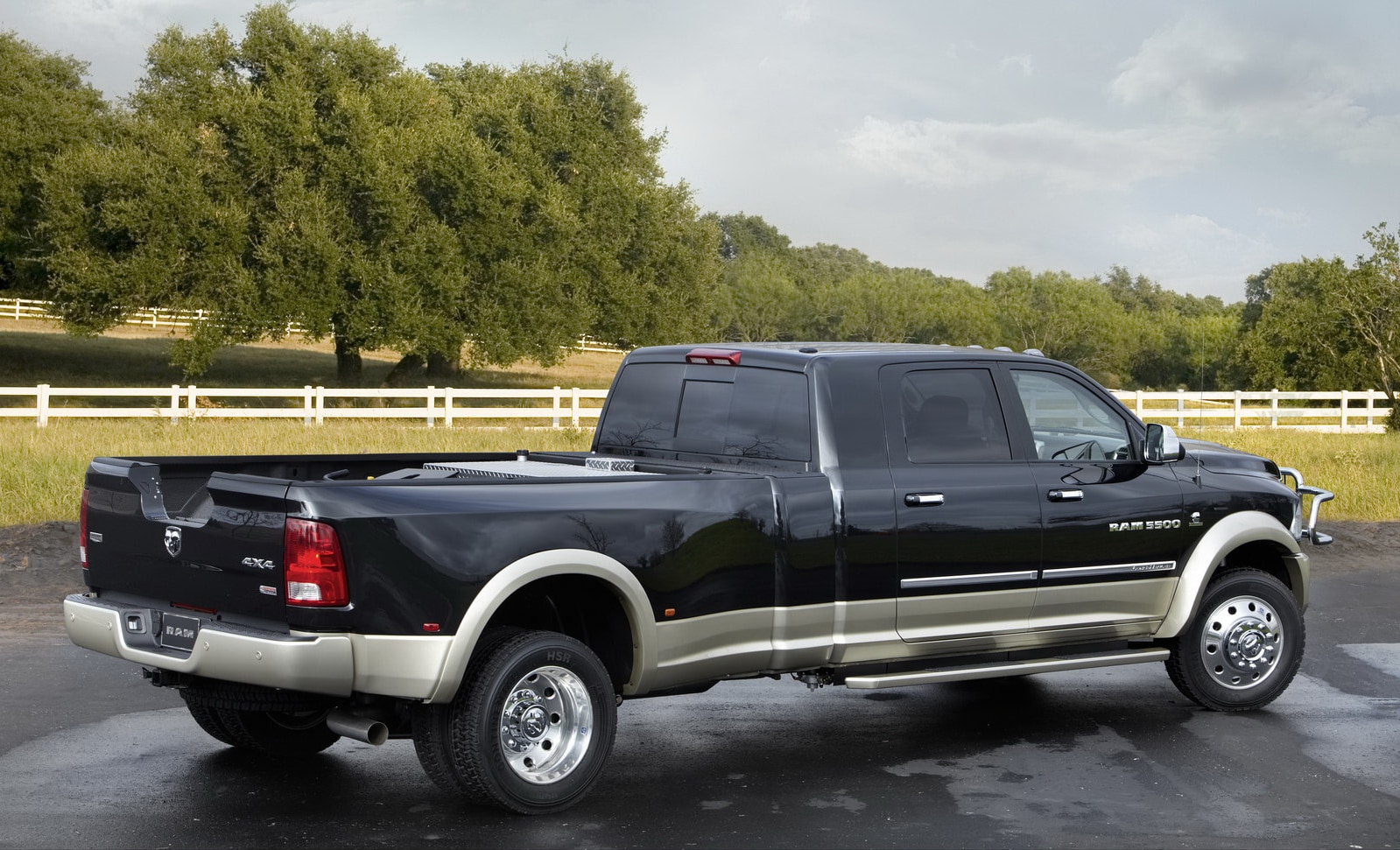 2012 Model Dodge Ram 3500 HD
There is also the current V8 Hemi engine with a capacity of 5.7 liters, which now offers 395 hp and 522 Nm of torque. This is a 5 hp more than the previous version. Machines equipped with engines Hemi, also boast a 20% lower fuel consumption.
Tuned edition of Dodge Ram model 2012
Main role in reducing the cost of engines and increase their efficiency plays the fact that engineers were able to reduce their weight. 3.6-liter engine is lighter by 34 kg. And 5.7 liter – 13 kg. Other elements of the Ram 1500 has weakened – aluminum lid (-12 kg), steel chassis (-12 kg), front bumper (-2 kg) and the new system of steering (+2 kg). Changes are also in the design and the interior, which is far richer and offers much better insulation. Is updated infotainment system that features a 8.4-inch display.
Before the conceptual Korean brand SsangYong pickup named SUT-1 is a rare global goal: to become only the world's best pick-up. Introduced at the Geneva motor show concept is very close to series production.
SsangYong SUT-1 is designed on the basis of a pickup truck Actyon Sports, which replaced it and go. In size, it has increased slightly – the concept of only 2 cm long and 1 cm wider than the current pick-up. Apparently, in the aggregate component of the designers did not intervene, because the height and wheelbase remain the same. However, the changes are striking in appearance: SUT-1 is clearly made in the same style as the first crossover brand with a monocoque body. Its production is under the name New Actyon factory in the Far East Sollers started in January this year.
Production version of SUT-1 will arrive on the conveyor at the end of autumn and start of sales is scheduled for early 2012. It is expected that as a basic pickup will be equipped with two-liter turbodiesel that develops 155 horsepower and 360 lb.-ft. of torque, available as early as 1500 rev / min. It can be sagregatirovat with automatic transmission or a 6-step "mechanics". There's also a release of all-wheel drive versions, and modifications to the drive only on the rear axle. On the possible capacity is known only that area of ??the loading platform will be at least 2 m
Bounty Hunter Monster truck is owned by CSK Auto Corporation. Bounty Hunter Monster truck is created and designed with Ford Expedition body kit.Engine of Bounty Hunter Monster truck is modified 555 C.I. Blown Alcohol.This Bounty Hunter monster truck is painted in blue color with lot of animated pictures on the cabin, which makes this monster truck fashion and unique.
Bounty Hunter Monster truck in the air
Bounty Hunter Monster truck is created in 2003. Bounty Hunter Monster truck home city is Tonganoxie, KS. The driver of the monster truck is Jimmy Creten.
Bounty Hunter Monster truck on the racetrack
Bounty Hunter Monster truck was invited to world finals in 2002. The monster truck is so powerful and modified and when we add the professional driver- the result is Wining Monster truck.
Bounty Hunter Monster truck crashing school bus on main event for World series.
Bounty Hunter Monster truck jumping
Bounty Hunter Monster truck in the air. Picture of Bounty Hunter Monster truck from Monster jam events.
Bigfoot Monster Truck is owned by Bob Chandler. This Bigfoot monster truck is one of the first monster trucks in Monster Jam series.The engine of  Bigfoot Monster Truck is modified 572 c.i. Ford Hemi. There are many drivers in the list for this Bigfoot Monster truck-Dan Runte, Rick Long, Ron Bachman, Rodney Tweedy, Nigel Morris, Alan Hartsock, Eric Meagher, Keith Sturgeon, Jerry Dalton , Brian Bertoletti & Madusa.
Bigfoot Monster Truck with huge wheels
Bigfoot Monster Truck is created in 1975 and the home city of the monster truck is Hazelwood, MO. Bigfoot Monster Truck is designed on 2005 Ford Super Duty pickup. This monster truck is painted with stylish blue color symbol of USA. Actually Bigfoot Monster Truck is one of the most popular trucks in the United States.
Bigfoot Monster Truck jumping
Bigfoot Monster Truck history starts in Missouri area in old 1975, when the owner Bob Chandler decide to modified the family 1974 Ford F-250 four-wheel-drive pickup to lifted monster truck. At the begin of the story he use the truck for off road driving in the weekends. When he found that is very hard to find parts for this kind of trucks, he and his wife Marilyn opened a shop for special parts only for trucks, the name of the store was Midwest Four Wheel Drive and Performance Center in Hazelwood.
Bigfoot Monster Truck on the race track
Everything starts when 1981 when Bob asked his friend- a farmer to place two old cars in his field, so that Bob Chandler could videotape himself crushing the cars with Bigfoot Monster truck as a joke. Bob start promoting this video in his store, and one day a guy from Missouri promoting a motorsports there likes the video and ask Bob Chandler to make the same the stunt in front of a crowd.
Bigfoot Monster Truck crashing cars
Next year many truck owners decide to modified their trucks and made them Monster Trucks like Bob Chandler's Bigfoot Monster Truck. Their lift their trucks with tires standing 66 inches tall. This is the story of Bigfoot Monster Truck and even of Monster Truck racing events at all.
Bearfoot Monster Truck is owned by Paul Shafer Motorsports. Bearfoot Monster Truck design is build on chase of Dodge Ram Pickup. The engine of Bearfoot Monster Truck is modified Keith Black Hemi.This Monster truck is painted in red color with bear picture on the sides. Modified monster truck with strong roll cage and big wheels powered with many horse powers under the hood.
Bearfoot Monster Truck on the race track
Bearfoot Monster Truck is created in 1979. The home city of Bearfoot Monster Truck is Portage, Indiana. Drivers in all events are Todd Frolik, Brian Womack and Norman Miller. The design of Dodge Ram makes the truck cool and stylish. This lifted monster truck has huge and heavy tires able to crash many cars.
Bearfoot Monster Truck in the air
Bearfoot Monster Truck is fast and powerful monster truck which runs in all Monster Jam events. Drivers of the Monster truck are professionals and crowd and all fans love them.
Bearfoot Monster Truck crashing cars
Bearfoot Monster Truck in Monster Jam championship.The original owner of the Monster truck until 1997 was Fred Shafer which was one of the first Monster truck drivers.This Monster truck is one of the first trucks uses the new standard for tires-66-inch Goodyear Terra tires.This truck is even the first Monster truck to ever roll over.
El Toro Loco Monster Truck is owned by Live Nation. The main driver of El Toro Loco Monster Truck is Lupe Soza. El Toro Loco Monster Truck engine is modified 540 ci. Merlin Chevy.
El Toro Loco Monster Truck style is 2004 Custom Bull.This monster truck is created in Banquette, Texas.El Toro Loco Monster Truck is created in 2001.El Toro Loco Monster Truck is now racing for USHRA monster Jam series.
El Toro Loco Monster Truck is the first Co-Champion on the special monster truck event-Monster Jam World Finals with other two trucks- Madusa and Maximum Destruction.
El Toro Loco Monster Truck is special modified monster truck designed in orange color, roll cage and very big and massive wheels.
El Toro Loco Monster Truck jumps and crashing cars on main event in Monster Jam.
Grave Digger Monster truck is designed and based on old 1951 Chevy-Panel truck. The owner and driver of Grave Digger monster truck is guy called Dennis Anderson. Engine of the Monster truck is Chevrolet Racing Bow Tie, 540 Cl.Grave Digger monster truck is build in 1981 in Kil Devil Hills, NC.
Grave Digger Monster Truck on the park lot
The history of Grave Digger Monster truck starts in 1981 when Mr. Anderson decides to build his own monster truck . He start  using old parts from different scrap yards from old cars and trucks. So for his Grave digger monster truck he used a Chevy engine and chassis of a Ford pickup from 1951.
Grave Digger Monster Truck racing
When the Grave Digger Monster truck was build it was a funny mud-bogger truck and every body start  laughed on Dennis Anderson's face. They call Grave Digger Monster truck old junk near to their new expensive monster trucks.

Grave Digger Monster Truck crashing cars
Dennis Anderson decide to upgrade his Grave Digger Monster truck and prove them that he is the best.He start tuning his parts and make a lot of changes. Grave Digger monster truck get new big block Chevy Engine located on the rear part of the truck.The body of Grave Digger truck was changed with 1951 Ford panel van.
Grave Digger Monster Truck side view picture
How Grave Digger Monster truck became a Famous? In 1984 in one of the events the truck that supposed to crash  the cars wasn't there, so Dennis Anderson offer the promoters to do this job.When Grave Digger truck crashed the cars, the crowed starts call him 'The Wild Guy" and his career in Monster Truck get started.

Grave Digger Modified Monster Truck
The story of Grave Digger Monster  truck body paint. In 1985 Dennis Anderson was talking with Fred Bumann a famous auto painter. The discussion of the body paint job was simple-Dennis doesn't like the idea for black truck painted with green flames.Fred offer the owner of Grave Digger to give him 18 hours to do the paint job and if he still doesn't like it he will change it. After 18 hours when Dennis saw his Grave Digger Monster truck he fell in love with it.

Grave Digger Monster Truck on race event
A few years later Dennis found that he need more speed for his Grave Digger Monster truck, so he decide to change with fiberglass body. A fiberglass company from Tennessee made a new light-weight body for Grave Digger monster truck. The new monster truck of Grave Digger trucks where born.
Now we will present 2011 Honda Ridgeline Super Duty Pick-up Truck.2011 Honda Ridgeline retains the styling of the previous year, which therefore suggests that it also be classified as a crossover SUV introduced. There will be a unibody structure. There is no change in the nocieable Exterior Features for 2011 Honda Ridgeline. There are four trim levels available: base model, or RT, RTS, leather-RTL, RTL and the Navigation system.As for the interior, the interior and rear-seat accommodations are among the best in its class. As part of the 2011 Honda Ridgeline tradition, it is to incorporate the standard and optional features that ensure consumers have several options available to their needs and budget. The 2011 Honda Ridgeline has a phenomenal safety feature – and it emplys the curtain airbags. The air conditioning is standard option. It does, has power windows and locks and keyless entry system
2011 Honda Ridgeline PickUp
In the field of power train, you will not see a lot of changes for 2011 Honda Ridgeline. It is equipped with a 3.5-liter V6 engine that can produce up to 250 hp and equipped five-speed automatic transmission. His power will enable you to pick up quickly when entering a highway. The fuel economy rating for this is also similar to the average for the series, which at 15 mpg in the city and 20 mpg on the highway. You can now anticipate that the 2011 Honda Ridgeline same numbers with the 2011 Honda Ridgeline
2011 Honda Ridgeline Interior
Currently, the actual pricing details for 2011 Honda Ridgeline is not yet made official. But expect many reviewers and critics that there are no major changes in the price of its predecessor. The basic model for this vehicle range is therefore expected that at not less than $ 29,600 are available. However, there are several other models in the 2011 Honda Ridgeline line and the RTS model will be priced around $ 32,800 and the RTL model somewhere around $ 35,550. Those who are equipped with a navigation system to be set as high as $ 38,000
2011 Honda Ridgeline On The Road
If you are looking for are not at risk for an innovative pick-up, quality and performance, then the 2011 Honda Ridgeline is the best place to be. Although it does not have major changes from the 2011 Honda Ridgeline, to not have it – and this is likely to activate a key decision that model to survive tough competition. Driving in terms of style, it is one of a kind, but it is also known for his versatility, superior engineering known and provides optimum comfort 2011 Honda Ridgeline.
Let's talk about the latest 2011 Chevrolet Silverado 3500HD Hevy duty pick-up truck. This American 2011 model Chevrolet Silverado 3500HD In addition to the usual raft of Corvettes and Camaros General Motors will bring a pair of custom-made pickups for SEMA show this year. The 2011 Chevrolet Silverado 3500HD full range of heavy duty trucks, GM has been pepped for 2011, and so, the Silverado 2500 HD and 2011 Chevrolet Silverado 3500HD will be on view.
2011 Chevrolet Silverado 3500HD Rear View
First up, the SEMA-bound 2011 Chevrolet Silverado 3500HD, the 2500 HD Z71 Silver presents a switchblade, the outer color with the special Z71 graphics wrapped. Other outer slopes close in corvettes competition gray painted 20-one inch wheels, a body-color grille, hard-Klapptonneau 2011 Chevrolet Silverado 3500HD blanket, problem-mounted winch, amber roof lights and six-inch oval assist in this  gray painted steps. In trucks, GM has neat double-DVD headrests, mobile wi-fi and a Chevrolet Accessory fitted, you flatten tool. The 2011 Chevrolet Silverado 3500HD modified truck is powered by GM new Duramax 6.6-liter diesel V8 and six-speed automatic transmission of as we have found in our tests, is a honey of a power train.
2011 Chevrolet Silverado 3500HD American Truck
The second SEMA Silverado is a difficult service 2011 Chevrolet Silverado 3500HD, which is fitted double for race, which attracts duty car. The 2011 Chevrolet Silverado 3500HD is still able to tow up to 21.700 pounds, so is a car on an open trailer is a piece of cake. The exterior of the truck is black with the 2011 Chevrolet Silverado 3500HD special racing graphics were painted and visual touches such as chrome hood louver adds 17-inch bright wheels, a special Gitterbeif?gung, chrome door refuels, and trailering mirrors, among others. The interior gets the same pitch as the 2500 Z71, and a 6.6-liter Duramax is found under the hood of this animal as well 2011 Chevrolet Silverado 3500HD.
2011 Chevrolet Silverado 3500HD Offroad
All 2011 Chevrolet Silverado 3500HD models brings greater capacity, improved ride and handling and a greater feeling of driver control. Highlights include:
• Increased towing capacity up to 21.700 pounds (9.843 kg) and payloads of up to 6.635 pounds (3.009 kilograms) on 2011 Chevrolet Silverado 3500HD models, supported by all-new, fully-boxed, high-strength steel frame and heavy suspensions
• New 6.6L Duramax diesel oil supplies to 2011 Chevrolet Silverado 3500HD percent more highway heating up, you economy and lower emissions to 63 percent, along with B20 biodiesel capability, and faster acceleration
• All-new "smart" exhaust brake feature provides greater control to block levels and reduced brake wear
• A number of 2011 Chevrolet Silverado 3500HD control features, including the followers influence monitoring, integrated trailer brake control, hill start assist, automatic degree, the brakes, intelligent brake assist and larger brakes
• Target-conscious technology, including mobile WiFi available, the USB connection, Bluetooth connectivity, XM Satellite Radio, OnStar 9.0 and navigation system.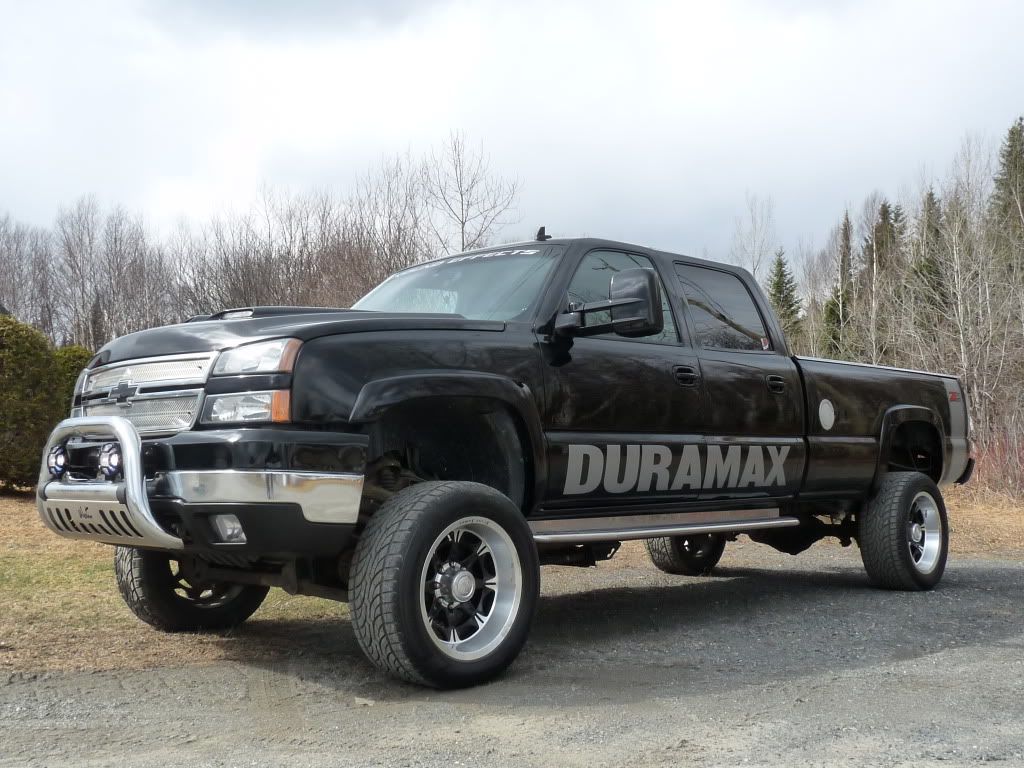 2011 Chevrolet Silverado 3500HD PickUp
Outside, the 2011 Silverado, 2500HD and 2011 Chevrolet Silverado 3500HD, the power of a dome-style hood with a new shutter design will be distinguished, and a new grille and a full-width chrome steel front bumper. A new list of 17, 18 and 20-inch wheel / you tire combinations will be presented, too, and the 2011 Chevrolet Silverado 3500HD show vehicle demonstrations, 20-inch wheels that are available through Chevrolet dealers, but painted corvette competition gray for the 2011 Chevrolet Silverado 3500HD show vehicle.
In the Last Show room in New York we find -2011 FORD F-150 Pick-up Truck.Not so long ago, 2011 FORD F-150 year received the award "Truck of the Year." When he won,2011 FORD F-150 received the award for best in class traction, rigid frame and a wide range of models – from the 2011 FORD F-150 normal working of the truck to luxury Platinum. The engines were good, but not quite spectacular. Because it may seem surprising that only two model years later, 2011 FORD F-150 line in 2011 has undergone a significant upgrade, with several key improvements already strong truck.
2011 FORD F-150 Off Road
In a number of 2011 FORD F-150 since the very presence of several levels of integration, even more than when he won the title of "Truck of the Year." They start with a base XL, and then rise to STX, XLT, FX2 and FX4, Lariat, King Ranch, Platinum, version of the Harley-Davidson and Lariat Limited. That's not counting the SVT Raptor, with two cabins to choose from. But those who loved 4,6 and 5,4-liter V8, will either have to choose the Expedition, or adapt, as in 2011 FORD F-150 none. And this car is a bit lost. Prospective purchasers of A-150 will have a choice of four engines, and the first time since 2008, available V-6 engines. For all the complete 2011 FORD F-150 sets available in only one transmission: a six-speed TorqShift
2011 FORD F-150 Front View
Of the four engines of two in fact fighting for the championship in a number of 2011 FORD F-150. The most powerful engine is a 6.2-liter, 411HP V8 was first introduced in the Super Duty, and then to the Raptor. V-8 has a terrific, deep rumbling and causes the 2011 FORD F-150 truck to move in a hurry.2011 FORD F-150 says this engine , and it will be available only in standard trim Harley Davidson and the Raptor, and optionally trim Lariat and Platinum. 2011 FORD F-150 expects that 10 percent of buyers will choose this engine.
2011 FORD F-150 Interior
Finally, the 2011 FORD F-150 real king is the opinion of Ford Eco Boost engine – a turbocharged version of the 3.5-liter V-6 that produces 365l.s power. This engine has peak torque at 2500 rpm like a diesel engine and a 6.2-liter engine can carry an impressive 5-ton cargo. And besides, it runs on regular unleaded petrol 2011 FORD F-150.