Newest Dodge Ram 1500 model 2012 in showroom
Company Chrysler revealed its new Ram 1500 pickup, which according to its creators have technologies that are now unfamiliar with the machines of this class sold in the U.S. market. Developments in the Ram 1500 is mostly related with the problem of fuel economy. The model has received 8-speed automatic transmission, both six-cylinder and 8 cylinder engines. Furthermore, a system "start / stop", improved aerodynamics, power steering and adjustable suspension. It is the same, which is fitted and the new Jeep Grand Cherokee. Thanks to its ground clearance can be reduced by 3 cm, thus more effectively through the headwind.
New Dodge Ram 1500 on the road
As the base engine offers 3.6-liter Pentastar V6 with 305 hp power and 364 Nm. For comparison, the atmospheric engine of Ford F-150 with volume 3.7 liters 302 hp has and 377 Nm. From Chrysler argue that their new unit will improve ICOM fuel by about 20% compared with the old.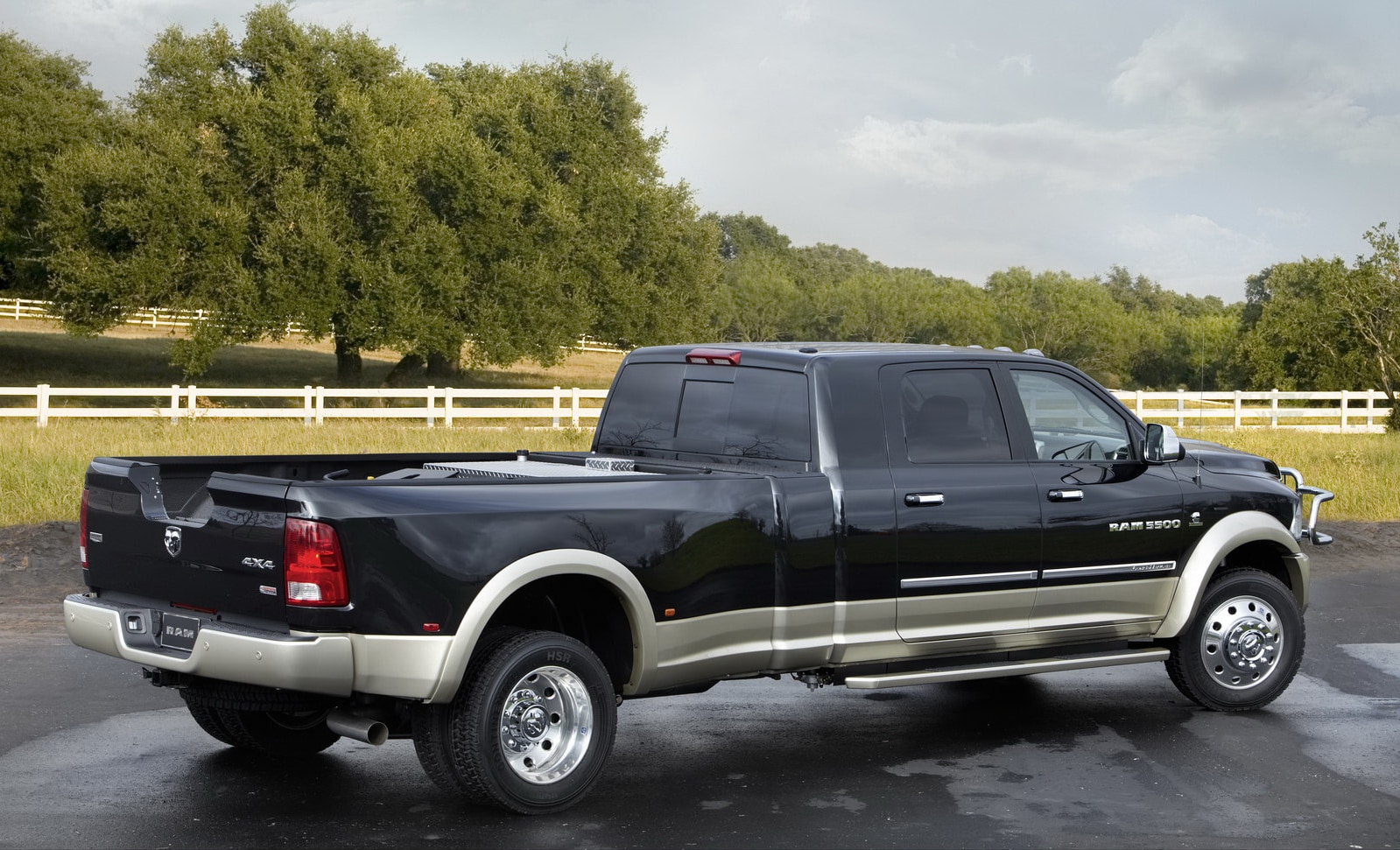 2012 Model Dodge Ram 3500 HD
There is also the current V8 Hemi engine with a capacity of 5.7 liters, which now offers 395 hp and 522 Nm of torque. This is a 5 hp more than the previous version. Machines equipped with engines Hemi, also boast a 20% lower fuel consumption.
Tuned edition of Dodge Ram model 2012
Main role in reducing the cost of engines and increase their efficiency plays the fact that engineers were able to reduce their weight. 3.6-liter engine is lighter by 34 kg. And 5.7 liter – 13 kg. Other elements of the Ram 1500 has weakened – aluminum lid (-12 kg), steel chassis (-12 kg), front bumper (-2 kg) and the new system of steering (+2 kg). Changes are also in the design and the interior, which is far richer and offers much better insulation. Is updated infotainment system that features a 8.4-inch display.
Toyota Highlander debuted 10 years ago as a mid-size SUV. While many were wondering whether people will want to buy «Camry Wagon" (with our today's hero was a lot in common with it). Well you up and you know that over the last decade, crossovers, became more popular.
Thanks to the quiet and quite spacious cockpit, motor V6, which is smooth and comfortable, as well as excellent reputation, Highlander is one of the most popular mid-size crossovers. And this year 2012 Toyota Highlander gets more and a number of upgrades, including new modeling and additional standard features. The third-row seat folding mechanism gets 50/50, which in turn provides more space for cargo.
If you get used to the feeling of a traditional SUV, while the Toyota Highlander in 2012 will be for you a good option. Its fully independent suspension makes handling comfortable enough, at least based on the standards of family-class cars, ride quality is also surprisingly smooth.
The 3.6-liter V6 engine adds a little playfulness and crossover ability to rapid acceleration that makes this 1814 pound SUV to appear smaller.
On this happy note I will finish my review, oh yeah forgot to indicate the cost of which starts from $ 30 000. That's all friends, see you soon.
The new face lifted Skoda Yeti model 2012 called the budget version of the Volkswagen Tiguan. However, as shown by this test with a trailer, the technique of these cars are not quite identical."Just and reasonable" – the motto of the Czech subsidiary of VW has lived for many years. The chosen strategy is yielding results, including a promising market segment of compact SUV's. Hardly anyone would dispute that 2012 Skoda Yeti has proven to be successful.
Along with an interesting, slightly cocky exterior, this "Czech" throws into the scales attractive quality-price ratio: about 10% of the price advantage compared to the corresponding models of Volkswagen Tiguan – a strong argument. All the more so for a reasonable amount you receive quality equipment VW. In addition, the manufacturer is constantly expanding the complete Skoda Yeti. Thus, popular 140-strong version of TDI in Europe can be ordered only with manual gearbox, but with an automated manual transmission with double clutch DSG. She is already familiar to us Tiguan'y and well proven in operation.If the Skoda Yeti takes two tons in tow, she, of course, is going slower than without a trailer. The slight slowdown when you press the gas pedal the more pronounced, the more vigorously try to pull away. With further acceleration is noteworthy contrast to the first significant Tiguan'a: a Skoda motor spins up to higher speed, and sometimes even too high. When squeezed the accelerator switch is at 4800 rev / min, which probably interferes with the normal acceleration.
With this excess of rated speed diesel engine with a supercharged power is greatly reduced. Therefore, Skoda Yeti, being about 100 pounds lighter than the Volkswagen Tiguan, under the same conditions does not reach its dynamic properties, but uses slightly more fuel. The difference in consumption evident on the roads and highways, and only a slight rise in the sixth interval includes the DSG gear ratios, sometimes switching back down to third gear. This immediately affects the flow.
Jobs automatic transmission is sometimes perceived as a bit of twitching: the cruise control is activated and the vertical drop on the highway gearbox hesitantly, a few times in a row is torn between the third and fourth intervals. Our "record" in the test trips were nine shifts gears for a few seconds. This operation is not a serious drawback, but a negative effect on the pleasure of driving. But on a level road cruise control makes driving with a trailer is very comfortable
Of all the mid-size pickup trucks 2011 Dodge Dakota arrives in the market as the most pernicious SUV with a great V8 engine, good performance and pulling power of 3265 kg (the best indicator in this class). Another mid-size pickup, which has an engine V8, a Chevrolet Colorado.In 2011, this pickup gets some important standard security options, namely, ABS and side airbags. The navigation system is no longer available, and the model for off-road TRX4 also discontinued
For 2011, Dodge Dakota gets the antilock brakes as standard (finally) and side airbags. But when it comes to internal processing, it remains to be desired. Although there is a pickup truck Dakota and advantages, for example – comfortable rear seats. But when it comes to landing in the car, once you realize that it is not designed to pamper its owner, is also worth noting that the interior is made of hard plastic and cheap looking.
All models Dodge Dakota 2011 powered by a standard 3.7-liter V6, which produces 210 hp Four stuperchaty "machine" is the only available transmission with this engine. Also, rear-wheel drive is standard on all models of Dakota, an additional four-wheel drive is available. Fuel consumption for "hundred" is: a city mode 15.68 liters, 11.76 liters on the highway, in a mixed mode of 13.84 liters. Maximum traction force for the V6 is 2245 lbs.
Optional on all models except the standard model is a 4.7-liter V8 producing 302 hp Automatic five-speed transmission is the standard. In performance testing, 2011 Dodge Dakota with a V8 engine went from 0 to 100 km / h in 7.6 seconds. Fuel consumption per 100 km is: 16.8 liters in the urban cycle, on the highway and l 13.07 15.68 l in mixed cycle. Maximum traction gain is 3265 kg.
Dodge Dakota 2011 c 3,7-liter V6 engine is ideal for trips around town. But if you want to really cool pickup, then I suggest you look at the model with the 4.7-liter V8 engine.
Cost Dodge Dakota 2011 in the U.S. ranges from $ 26,780 up to $ 30 630
MADUSA Monster truck is owned by TEAM OF BIGFOOT. MADUSA Monster Truck is equipped with 572 ci Ford Engine.Style of MADUSA monster truck is designed of 2006 Ford F-150.
MADUSA Monster Truck Jumping
The driver of MADUSA monster truck is Debra Miceli. Home city of the MADUSA monster truck is Tampa FL.The name of the driver of this Monster truck is representing that she is from USA- 'Made in USA'
MADUSA Monster Truck roll over in the air
MADUSA monster truck is named after its driver. This monster truck is nice painter monster truck with big engine and tuned design.
MADUSA monster truck is 2005 Monster Jam World Finals Racing Champion and a 2004 freestyle co-champion. In March 2006
MADUSA Monster Truck is crashing cars for the crowd.
Let's talk about the latest 2011 Chevrolet Silverado 3500HD Hevy duty pick-up truck. This American 2011 model Chevrolet Silverado 3500HD In addition to the usual raft of Corvettes and Camaros General Motors will bring a pair of custom-made pickups for SEMA show this year. The 2011 Chevrolet Silverado 3500HD full range of heavy duty trucks, GM has been pepped for 2011, and so, the Silverado 2500 HD and 2011 Chevrolet Silverado 3500HD will be on view.
2011 Chevrolet Silverado 3500HD Rear View
First up, the SEMA-bound 2011 Chevrolet Silverado 3500HD, the 2500 HD Z71 Silver presents a switchblade, the outer color with the special Z71 graphics wrapped. Other outer slopes close in corvettes competition gray painted 20-one inch wheels, a body-color grille, hard-Klapptonneau 2011 Chevrolet Silverado 3500HD blanket, problem-mounted winch, amber roof lights and six-inch oval assist in this  gray painted steps. In trucks, GM has neat double-DVD headrests, mobile wi-fi and a Chevrolet Accessory fitted, you flatten tool. The 2011 Chevrolet Silverado 3500HD modified truck is powered by GM new Duramax 6.6-liter diesel V8 and six-speed automatic transmission of as we have found in our tests, is a honey of a power train.
2011 Chevrolet Silverado 3500HD American Truck
The second SEMA Silverado is a difficult service 2011 Chevrolet Silverado 3500HD, which is fitted double for race, which attracts duty car. The 2011 Chevrolet Silverado 3500HD is still able to tow up to 21.700 pounds, so is a car on an open trailer is a piece of cake. The exterior of the truck is black with the 2011 Chevrolet Silverado 3500HD special racing graphics were painted and visual touches such as chrome hood louver adds 17-inch bright wheels, a special Gitterbeif?gung, chrome door refuels, and trailering mirrors, among others. The interior gets the same pitch as the 2500 Z71, and a 6.6-liter Duramax is found under the hood of this animal as well 2011 Chevrolet Silverado 3500HD.
2011 Chevrolet Silverado 3500HD Offroad
All 2011 Chevrolet Silverado 3500HD models brings greater capacity, improved ride and handling and a greater feeling of driver control. Highlights include:
• Increased towing capacity up to 21.700 pounds (9.843 kg) and payloads of up to 6.635 pounds (3.009 kilograms) on 2011 Chevrolet Silverado 3500HD models, supported by all-new, fully-boxed, high-strength steel frame and heavy suspensions
• New 6.6L Duramax diesel oil supplies to 2011 Chevrolet Silverado 3500HD percent more highway heating up, you economy and lower emissions to 63 percent, along with B20 biodiesel capability, and faster acceleration
• All-new "smart" exhaust brake feature provides greater control to block levels and reduced brake wear
• A number of 2011 Chevrolet Silverado 3500HD control features, including the followers influence monitoring, integrated trailer brake control, hill start assist, automatic degree, the brakes, intelligent brake assist and larger brakes
• Target-conscious technology, including mobile WiFi available, the USB connection, Bluetooth connectivity, XM Satellite Radio, OnStar 9.0 and navigation system.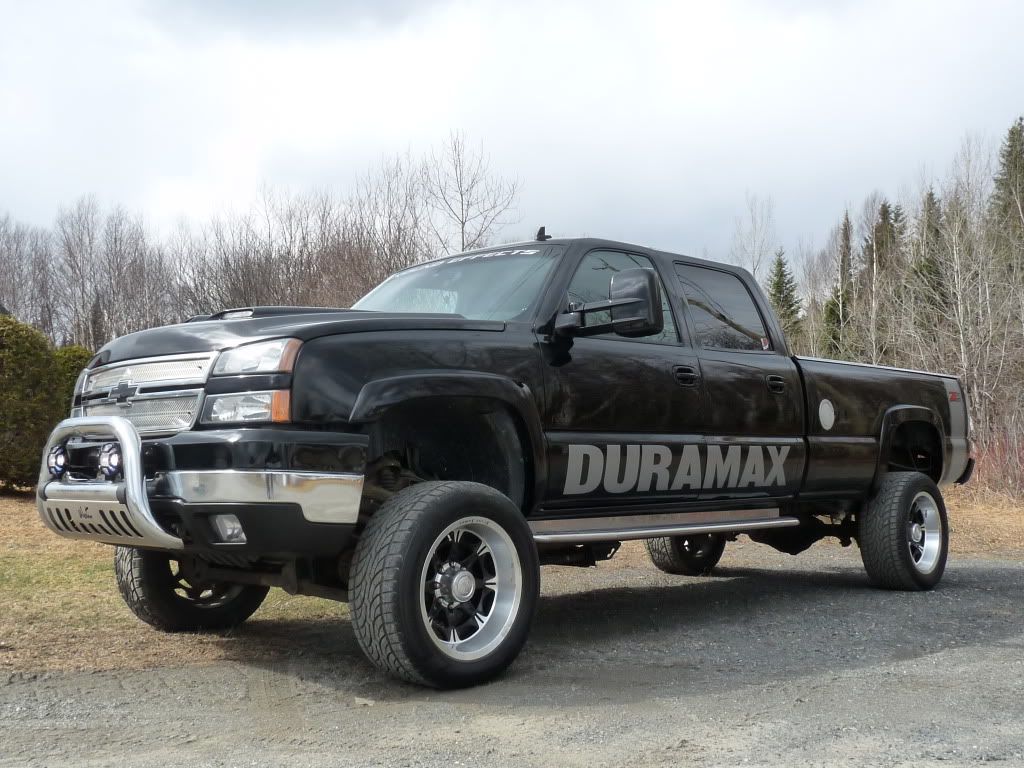 2011 Chevrolet Silverado 3500HD PickUp
Outside, the 2011 Silverado, 2500HD and 2011 Chevrolet Silverado 3500HD, the power of a dome-style hood with a new shutter design will be distinguished, and a new grille and a full-width chrome steel front bumper. A new list of 17, 18 and 20-inch wheel / you tire combinations will be presented, too, and the 2011 Chevrolet Silverado 3500HD show vehicle demonstrations, 20-inch wheels that are available through Chevrolet dealers, but painted corvette competition gray for the 2011 Chevrolet Silverado 3500HD show vehicle.
In this post you can see lifted Pick-up truck – 2011 Ford F-150 SVT Raptor- exotic American model truck. The 2011 Ford F-150 SVT Raptor rally driver already provides on and off the WRC line in his 850-horsepower Ford Fiesta for Eddy, now he is in private road with a genuine off-road monster. 2011 Ford F-150 SVT Raptor gave Ken Block in recognition of his services a 2011 Ford F-150 SVT Raptor.
2011 Ford F-150 SVT Raptor Rear View
The 2011 Ford F-150 SVT Raptor is not one of the models that are used to run comfortably on the streets. A 6.2-liter V8 engine provides the necessary freshness and makes the 2011 Ford F-150 SVT Raptor pickup to a brutal toys, happy to find the road. Vents on the hood and bulging side skirts give the 2011 Ford F-150 SVT Raptor a grim look, brawny headlights and grill are also part of a monstrous appearance 2011 Ford F-150 SVT Raptor.
2011 Ford F-150 SVT Raptor Offroad
Ken Block the appearance of the 2011 Ford F-150 SVT Raptor is apparently still not angry enough. Therefore, his car gets a flat black paint missing and the 2011 Ford F-150 SVT Raptor rims do not shine in polished chrome, but to emphasize the black root. Off-road rocket instead of "bling-bling" is the motto here, probably – certainly, Ken Block also be private soon found more often in the field 2011 Ford F-150 SVT Raptor.
2011 Ford F-150 SVT Raptor 4×4
So 2011 Ford F-150 SVT Raptor who will soon be overtaken on the highway by a black pickup that runs directly on the dirt road or in the field, does not need to wonder.Interior put 410 hp and 590 Nm of torque.Reason enough for Ken to bring the vehicle in his own touch 2011 Ford F-150 SVT Raptor.
The 2012 Ford Vertrek concept car that celebrates at the Detroit Motor Show debut is already now a preview of the next-generation SUV of the U.S. car maker.2012 Ford Vertrek concept car called Ford's SUV concept that the public is served at the Detroit Motor Show. The exhibit was designed in Cologne's development center and leans heavily in its silhouette to the current model Kuga 2012 Ford Vertrek.
new 2012 model Ford Vertrek
In detail 2012 Ford Vertrek, the automaker has the shape of the compact SUV's, yet even one more aggressive. When Ford Concept Car vertrek remind many elements of the advanced "Kinetic design" to the current generation Ford Focus, which was a year ago also presented at the Detroit Motor Show.The lower cooling vents in the bumper are now designed in a trapezoidal shape and as with the focus divided into three parts. The 2012 Ford Vertrek headlights and taillights are shown in comparison to the Kuga-series model is significantly leaner and more aggressive. The rising belt line and the widened fender of the Ford Concept Cars vertrek leave the SUV appear more muscular
2012 Ford Vertrek Luxury Suv
The 2012 Ford Vertrek heavily contoured hood to suggest a high power of the underlying engine. At the rear of the 2012 Ford Vertrek concept cars, the sporty impression is supported by a roof spoiler. At the lower end of side two obliquely mounted exhaust pipes protruding from the rear. Compared to the Ford Kuga, the study should provide more interior space.The 2012 Ford Vertrek view into the interior of the Ford Concept Cars vertrek falls from above through the futuristic, narrow glass roof, which is not in this form in the safe range. Including four individual bucket seats with suede leather cover are mounted to radiate with three wide ribs in the area of the 2012 Ford Vertrek spine at first glance, not just comfort.
2012 Ford Vertrek Interior
The 2012 Ford Vertrek different shades of brown but a bit cool modern designs are interspersed with neon-red accents. Along with aluminum trim colors, this game is also on the dashboard again. The 2012 Ford Vertrek ready, uncluttered center console pushes it far into the interior.Leather Rugs in a Ford concept car vertrek.The large screen behind the steering wheel and in the middle of the dashboard to provide exactly like the cool blue instrument lighting the impression of 2012 Ford Vertrek modern technology. The attention to detail of the Ford Concept Cars vertrek reflects self-contradictory in the carpets, in which a hand-woven leather material is used 2012 Ford Vertrek.
2011 GMC CANYON Pick-Up
The 2011 GMC CANYON was introduced by General Motors Corporation (GMC) . Since then the company has continued high quality and performance models in the lineup that always manages to bring tap the 2011 GMC CANYON latest version. The same trend is continued with the 2011 GMC CANYON pickup and there is a lot at camp.
2011 GMC CANYON On The Road
First of all, is the exterior design for the 2011 GMC CANYON largely unchanged. In fact, it has seen no significant change since the 2007 model year. Although largely the creation of  2011 GMC CANYONrecent years, the grid is to be one of the most stylish features for this vehicle. Indeed, there are more surprises waiting for you on the 2011 GMC CANYON inside.
2011 GMC CANYON Rear View
Let's start with some negatives, first the 2011 GMC CANYON built with subpar interior materials, such as hard plastic. The main reason was the fact that they have retained the basic structure for the 2011 GMC CANYON earlier models, and things have changed. If only could keep up the 2011 GMC CANYON series with its future models, then this should not prove to be a problem at all. One thing that critics have praised repeatedly about the 2011 GMC CANYON is the quality of its ride. The pickup vehicle runs smoothly and quietly, while the 2011 GMC CANYON treatment for this vehicle was superb.
2011 GMC CANYON Interior
As for the 2011 GMC CANYON performance data, this is probably the vehicle redeeming quality in the 2011 GMC CANYON offers the 2.9-liter inline-4 cylinder engine, capable of holding up to 185 hp and 190 lb-ft of torque. You have the option of the 2011 GMC CANYON engine in a 3.7-liter in-line 5, the maximum of 242 hp and 242 lb-ft of torque can provide update. Standard on the 2011 GMC CANYON is the five-speed manual transmission, but there is also an option to extend the four-speed automatic transmission.
2011 Volvo XC90 On The Road
Follow their 2011 Volvo XC90 own ideas to make his life more varied and unexpected possibilities.2011 Volvo XC90  Start in a special driving experience. The 2011 Volvo XC90 is distinguished by an elegant design that embodies the features of the driver – self-confidence, uniqueness, professionalism and sophistication 2011 Volvo XC90.

2011 Volvo XC90 Expensive Model

This 2011 Volvo XC90 film offers a concise and inspirational overview of your Volvo – in videos and learn more about its operation, its unique features and functions.To use your 2011 Volvo XC90 best, you can download a stimulating quick introduction and a detailed operations manual. Please note that such documents show the Volvo XC90 the Model 2011. Therefore, there can be differences between the characteristics on which the information relates to this site and the 2011 Volvo XC90 characteristics of your particular vehicle. The 2011 Volvo XC90 operating manual and the quick introduction that come with the vehicle containing the latest information for your specific model.

2011 Volvo XC90 Family Suv
The 2011 Volvo XC90 Quick Guide is an abridged version of the comprehensive and detailed operations manual. It allows you to make a simple, straightforward way to know your vehicle. Go through the 2011 Volvo XC90 Quick Tour to get inspiration, to deepen your knowledge and enhance one's appreciation of your 2011 Volvo XC90 and its features further.

2011 Volvo XC90 Interior
The 2011 Volvo XC90 operations manual presented in great detail the functions and parts of your vehicle, including the instruments and controls, the audio system, the interior and the rims and tires.If you want to order the Quick Tour or the 2011 Volvo XC90 operating manual for your car in printed form or a copy of it in your own language, please contact your local 2011 Volvo XC90 dealer.